Flexible, Accurate and Secure timing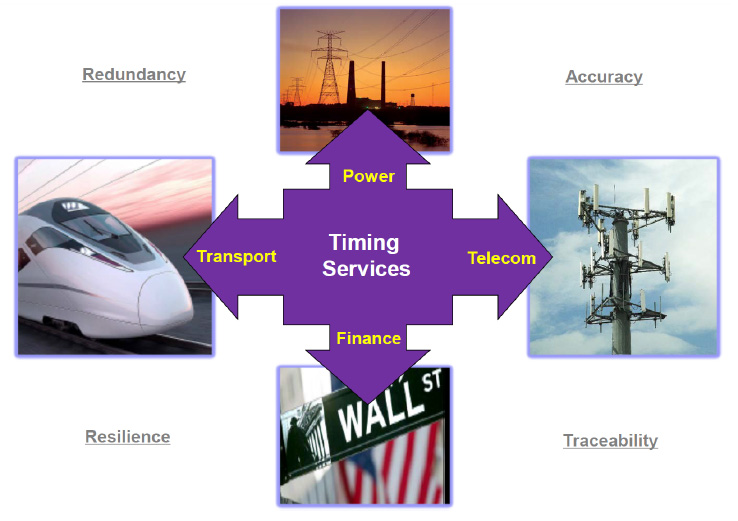 Accurate and reliable timing is an essential factor to keep the stability and safety in the power grid as well as in other relevant sectors of the industry –including Telecom, Finance, Broadcast, IoT, and Industrial automation–. Timing is so crucial that small perturbations may induce a power blackout, phone call breaks, chaos in airports or cause millionaire losses in the stock market. GNSS (Galileo, GPS...) could satisfy timing needs; however, stand-alone GNSS solutions are not reliable because interferences degrade its performance, while cyberattacks, jamming and spoofing are unacceptable threats.
The solution is the use of specific nodes for synchronization that equipped with a good oscillator and a GNSS receiver can distribute timing through redundant paths by means of time-stamped packets. The state-of-the-art solution for timing distribution nowadays is the Precision Time Protocol (PTP), which improves accuracy and robustness to the level required by power generation and distribution applications and many other industries requiring accurate timing. We have several product lines including:
Synchronization clocks: equipped with OCXO or Rubidium are the ideal solution for your timing needs.


PTP testers: capable to emulate and analyze the protocol.


Sync Ethernet testers: are ideal for the installation and troubleshooting SyncE.


Ethernet Taps: intended to capture PTP and Ethernet protocols to analyze them.


WAN emulators: ideal find out the tolerance of the synchronous network under any traffic condition.