Commercial Inquiries

Technical Support
ALBEDO Telecom International has offices and business partners to answer your techical questions or issues in all five continents.To find out where our nearest office or representant is. The will will call you, we will set up a multiconference, or we will visit you if needed.
Please contact Support: support.telecom@albedo.biz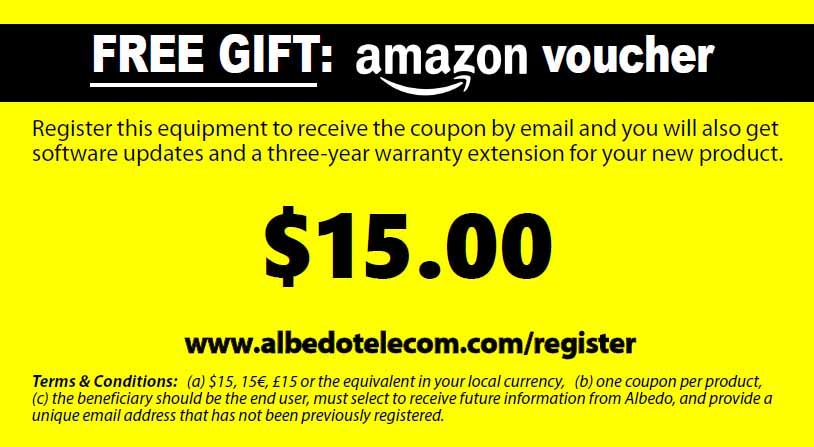 Register your Product
Albedo Telecom products are built to the highest standards and come with an Albedo Three Year Manufacturer's Warranty as standard to protect against manufacturing faults and defects that occur during this warranty period.
To register your product and ensure that you receive Free Software updates and information on new features and capabilities register your device Online at:
www.albedotelecom.com/register
RMA Request
In the event of a hardware upgrade or a hardware failure, please download the RMA request form to prepare the Return Material Authorization.
Read carefully the instructions and mail the RMA Request form to to obtain a Return Material Authorization (RMA) number. All returned material must have a valid ALBEDO Telecom RMA number which is necessary to ensure proper tracking and handling of returned material at the factory. Do not return any unit until an RMA is issued. ALBEDO Telecom reserves the right to refuse shipments that do not have an authorized RMA number. Refused shipments will be returned to the shipper via collect freight. ALBEDO will assume shipping cost to send back the repaired/replaced part to the customer only if the product is under warranty. All claims will be repaired or replaced at the sole discretion of ALBEDO Telecom. Repaired or upgraded units will receive a 180 days warranty or the remainder of the original warranty, whichever is longer.
For more information contact Maintenance: rma.telecom@albedo.biz
Job Demands
We are a rapidly growing multinacional manufacturer with the aim to deliver state of the art, field proven products to telecom operators, utilities, military and industry. We design field and lab testers, multimeters, WAN and VoIP emulators, packet capture devices and synchronization systems all based on our core competence and our proprietary software & hardware solutions. ALBEDO has more that 500 major clients located using our solutions in more than 80 countries.
... send your resume in pdf format to Zach at zib@albedo.biz
General Questions
For any other question please address to:
Infoline: info.telecom@albedo.biz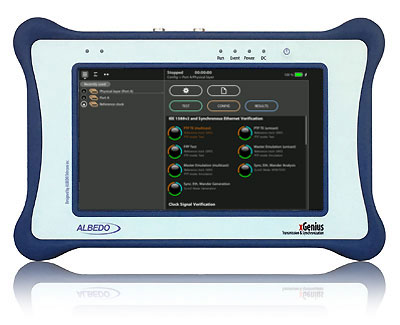 Commitment with Customer's needs
ALBEDO products and services integrate with your business ever since the beginning, and we will work with you to get solutions to questions such as:
I need 100GbE, 10GbE, PTP, T1/E1, SyncE, C37.94 solution
I have to build a telecom lab
How can I simulate a proper Ethernet/IP network?
May I install a cost effective tool to roll-out VoIP service?
What are the specific needs power utility lab?
Does my Provider match the SLA?
Which is the best Operator in town?
What causes bad QoS on the IP cloud?
Privacy Policy
In compliance with the provisions of Law 15/1999, of December 13 of Personal Data Protection (PDPL), by this notice, ALBEDO informs the user alias ("User") of the personal data that requests, so that users can freely and voluntarily whether they wish to provide ALBEDO personal data (hereinafter "Personal Data") that may be required or to be obtained from the users during the application registration or information on the website operated by ALBEDO hosted in the URL www.albedotelecom.com or services that can be contracted through the portal. The Personal Data collected will be automatically processed and incorporated into the relevant files for ALBEDO and registered with the Agency for Data Protection, being ALBEDO owner and responsible for the file (hereinafter, the "File"). The data provided can be used to inform our products, news and / or promotions. To this end, ALBEDO provide the user with adequate technical resources, prior, can access this notice on the Data Protection Policy or any other relevant information and give their consent so that in ALBEDO proceed to treat your Personal Information. The user can at any time request access to their personal data and their rectification, opposition and cancellation, for it must be sent in to ALBEDO by e-mail to info.telecom@albedo.biz