Net.Shark
Net.Shark is a FPGA based Tap with filtering capabilities, that connected in pass-through mode, is able to capure traffic at wire-speed. Packets are transmitted through two ports and traffic compliant with one of the filters is sent to Wireshark.
Wireshark is a network packet analyzer to examine communication network. Important features are: live packet data capture, display packets with very detailed protocol information, open/save data, import/export from/to other programs. It can search/filter data on many criteria. Wireshark is open source and probably the best packet analyzer available.
Features and Benefits
World first hand-held, battery and 100% autonomous TAP
Hardware (FPGA) performace
Breaks out FDX traffic into separate streams to be dropped
It may aggregates filtered traffic to one DROP port into a single output stream
Traffic Regeneration
Filters
Sixteen (16) simultaneous filters can be applied to the traffic.
Ethernet source and destination MAC addresses
Sselection of MAC address sets with masks
Ethertype value with selection mask,
VLAN-VID with selection mask,
VLAN-CoS value with selection mask
IP source, destination, and source-and-destination
IP address group: subset of addresses filtered by masks
Protocol encapsulated in the IP packet (TCP, UDP, Telnet, FTP, etc.)
DSCP field, single value and range
TCP/UDP port, single value and range
Agnostics filters defined by 16 bits masks and user defined offset
Lawful filter: 64 byte pattern match at any place in the frame payload.
Users
Any Wireshark user requiring GbE performance
VoIP providers and installers
R+D centers
Law applications
First hand-held Tap in the market
Mirror ports may not provide 100% of network traffic if they are over-subscribed because this process works in background in low priority; moreover it may not even be available for use when necessary. It may also occur that to monitor multiple network channel or VLAN simultaneously and aggregate the data to your network analysis cannot be possible because of the complexity of the set up and execution process.

PCs executing protocol analyzers like Wireshark lack power capacity and traditional taps cannot be moved easily and always depend on another external device because are not self contained. Once you get the traffic there are still limitations such as FDX capture, jitterless timestamp, or field storage of captured data that may only be overcame with a hand-held field tap such Net.Shark: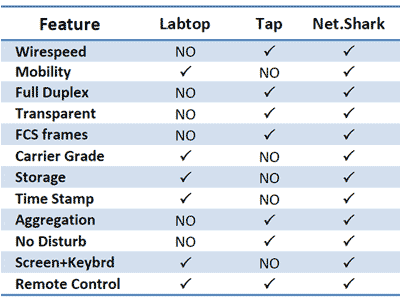 More Information
NetShark hand-held 2xSPAN Ports: SFP interfaces including: 10BASE-T, 100BASE-TX, 100BASE-FX, 1000BASE-T, 1000BASE-SX, 1000BASE-LX. DROP Ports: 2x1000BASE-T. Aggegation function in one DROP port. Local Storage: SD storage in PCAP format . Throughput SPAN ports: 2x1 Gbit/s or 2x1,500,000 frames/s. Minumum operation time with one battery pack 2.5h., two battery pack 5 h. (Includes two battery NiMH packs, AC/DC adapter transportation bag, RJ45 connectors). Two units SFP Adapter 1000BASE-Cx to 1000BASE-T with RJ45 included.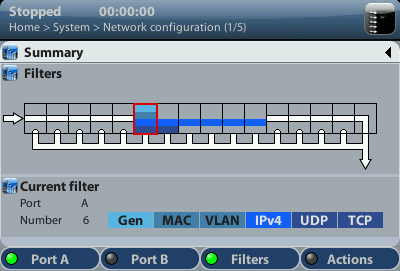 Traffic Discovering - Automatic detection of up 16 most frequent streams listed by IP, VLAN, MAC and bandwidth use.
Remote Control. Based on VNC standards for Windows and Linux. Ethernet/IP remote control that duplicates the tester graphical user interface in a remote computer.