LTE & Timing: to be or not to be
New LTE networks are very demanding on synchronization particularly those architectures that plan small cells, where power and frequency re-utilization are a key factor.
The point is, mobile networking is moving forward with new timing requirements that require not only frequency, but phase synchronisation as well. This is the case of LTE-TDD (Time Division Duplex) where the uplink and downlink share the same frequency in order to make the system more efficient. This method proves to be very flexible, however requires an absolute time reference that only PTP technology can supply. This rollout can be assisted by the following tools:
Ether.Genius tester
This tester addresses the Service Activation by analysing the capacity and quality of the network by means of eSAM and RFC2544.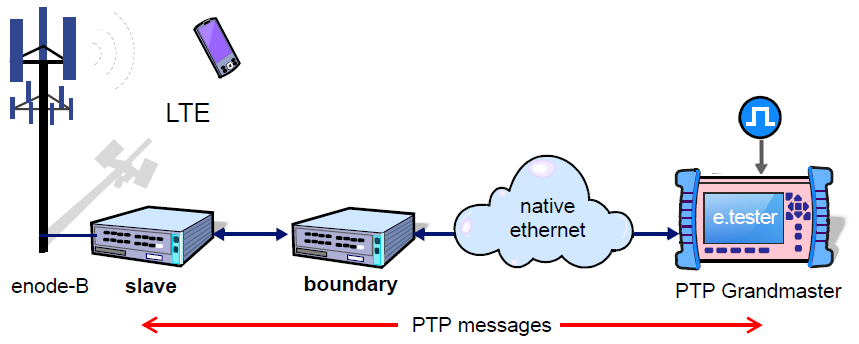 During the installation of an IEEE 1588v2 network, PTP connectivity problems may occur between master and slave clocks, however Ether.Genius can detect and solve by means of protocol emulation, wander measurements and PDV/correction.
Net.Storm WAN emulator
This instrument can generate, in a 100% controlled way, packet impairments to verify how boundary clocks manage with packet lost and packet delay variation (PDV or Jitter).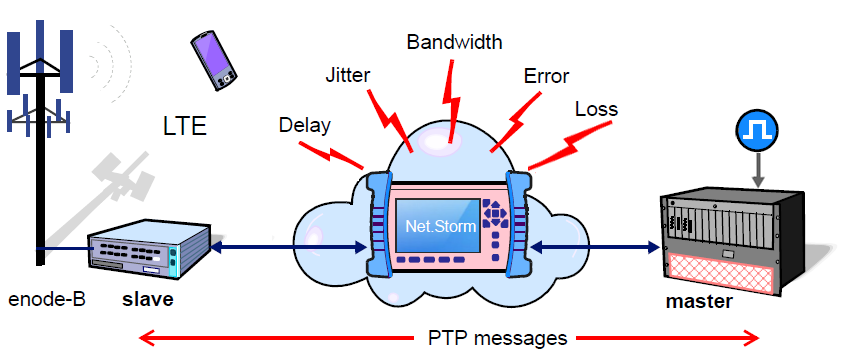 Net.Storm can also be used to verify that PTP boundary or slave clocks compensate delay asymmetries properly.
Net.Hunter capture device
This handheld tap is able to filter and capture PTP flows at wirespeed in full duplex mode. The rest of the traffic (protocols, data, etc.) will pass with zero delay and no loss at all.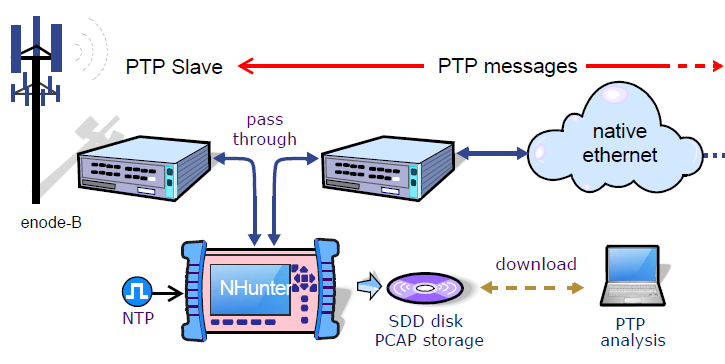 PTP packets that are compliant with any of the 30 programmable filters (based on MAC, IP, TCP, Port, etc.) are copied and saved to an internal SSD disk in PCAP format. Captured packets are marked with nanosecond-accurate hardware generated timestamps.
Case studies
TELCO: 'what is the affect when the IEEE 1588v2 packet synchronisation is affected by random jitter?'

PROTOCOL: 'are you sure that the protocol data session will be up with a 50Mbit/s link?'

OPERATIONS: 'our daily activity includes monitoring and maintaining GbE base stations synchronized by E1 clocks'

ENGINEER: 'we are unable to perform the tests properly without a multi-tech field instrument'

LAB: 'prepare a PTP Master/Slave emulator to approve the new LTE base station, please check both internal & external clocks'
MAINTENANCE: 'go to the base station and capture traffic with PTP time-stamp in both directions'


Dear Customer,
Our product range comprises from small handheld battery field testers, to fully featured service performance assurance tools and distributed monitoring systems. In the case of LTE we have several product lines including:
PTP testers: able to emulate and analyze the protocol
SyncE testers: for turn-up and maintenance
Field Taps: for capturing PTP flows and Ethernet protocols
WAN emulators: ideal for finding out the tolerance of the network under any traffic condition
In essence, Albedo Telecom have designed and manufactured complimentary test tools that suit all elements of LTE testing for the Lab, Field service and Operations. Your engineers will now be able to test legacy, current and future technologies with powerful yet cost effective and affordable solutions.
Kind Regards,





Marketing & Sales Director